What Our Patients Are Saying
"Dr. Rob and his staff are so wonderful! Carly has been going to their office every six months for the past two years. They are so kind and gentle with her. I couldn't ask for a better dental experience for my three-year-old daughter!"

Carly's Mom
"Both of our littles had an amazing first dental experience! They are already saying how they can't wait to go back for their next checkup, and even asked if we could go back later that day. The office is so fun and the staff is friendly and overall, incredible! I'm so glad we found this office."

Zack and Autumn's Mom
"Everyone at the office is always super friendly and that makes the kids feel so at ease! The office is super cute and clean. The kids love all the things for them to do and look forward to coming back every time!"

Maverick and Heidi's Mom
"I cannot say enough great things about Dr. Rob and the amazing staff at Pediatric Dentistry of Sunset Hills Wentzville!! The office is so welcoming and the boys feel right at home! The best part is that they enjoy going and we never have any tears. I highly recommend them!"

Andrew and Louis's mom
When should a child
see a dentist?
When should my child
start brushing?
What insurances
do you accept?
Why should I take a child to the
dentist just for baby teeth?
What should I do if my child's tooth falls out?
Pediatric Dentistry of Sunset Hills
---
We would like to take this opportunity to introduce you to Pediatric Dentistry of Sunset Hills, our practice philosophy, and prepare you and your child for your first visit to our St. Louis, Arnold, and Wentzville pediatric dental offices.
Our mission is to provide high quality dentistry to every child in a fun, exciting, and positive atmosphere. We are a state-of-the-art facility that specializes in the care of infants, children, adolescents, and patients with special needs. Our goal is to provide a positive experience through comprehensive care for our patients in a friendly and safe environment with a focus on prevention and education to our families.
Once you've had the opportunity to meet our doctors and staff and see the individual care we provide, we know you will feel more at ease and will have confidence of our teams ability to deliver the most comprehensive and positive dental experience for your child.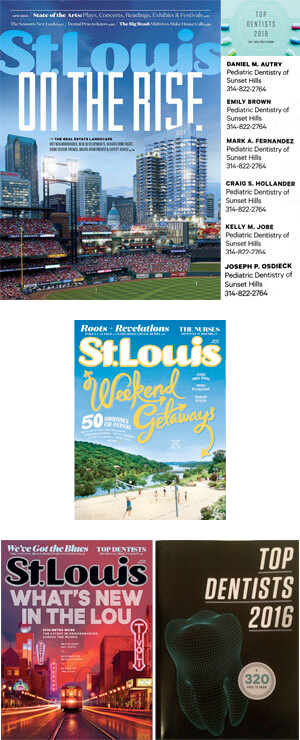 Giving back to the Community