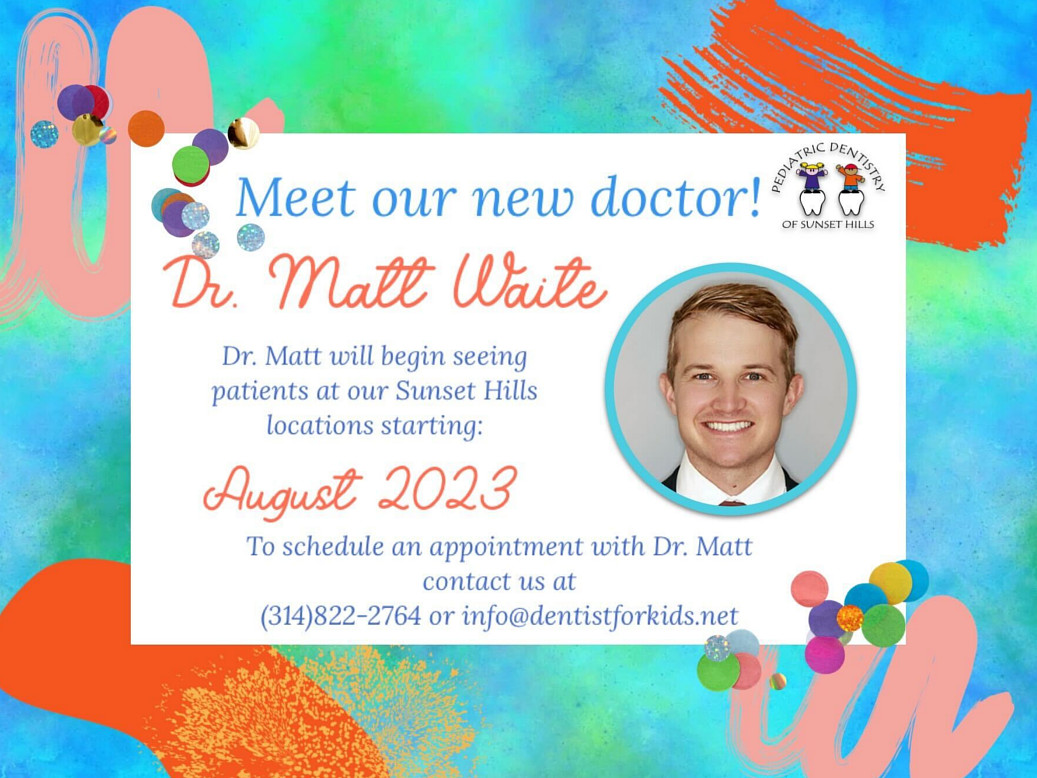 What Our Patients Are Saying
"Dr. Rob and his staff are so wonderful! Carly has been going to their office every six months for the past two years. They are so kind and gentle with her. I couldn't ask for a better dental experience for my three-year-old daughter!"

Carly's Mom
"Both of our littles had an amazing first dental experience! They are already saying how they can't wait to go back for their next checkup, and even asked if we could go back later that day. The office is so fun and the staff is friendly and overall, incredible! I'm so glad we found this office."

Zack and Autumn's Mom
"Everyone at the office is always super friendly and that makes the kids feel so at ease! The office is super cute and clean. The kids love all the things for them to do and look forward to coming back every time!"

Maverick and Heidi's Mom
"I cannot say enough great things about Dr. Rob and the amazing staff at Pediatric Dentistry of Sunset Hills Wentzville!! The office is so welcoming and the boys feel right at home! The best part is that they enjoy going and we never have any tears. I highly recommend them!"

Andrew and Louis's mom
When should a child
see a dentist?
When should my child
start brushing?
What insurances
do you accept?
Why should I take a child to the
dentist just for baby teeth?
What should I do if my child's tooth falls out?
Pediatric Dentistry of Sunset Hills
---
A child's first visit to Pediatric Dentistry of Sunset Hills should be enjoyable. Children are not born with a natural fear of the dentist, but they can fear the unknown. Our office makes a special effort to use pleasant, non-frightening, simple words to describe each treatment. Plus, our fun "under the sea" theme, tablets with Disney+ for entertainment, and prizes at the end of each visit mean most children leave with a smile!
Why is childhood oral health important?
Good oral health offers a child many advantages. Having healthy teeth and a healthy mouth supports a child's overall health, because dental problems can affect the rest of the body. Healthy children perform better in school than children who are distracted by poor dental health or other health problems. Taking good care of a child's teeth and gums helps prevent painful cavities, sore gums and other health problems. What's more, having a healthy smile enhances a child's appearance, which boosts self-confidence.
Brushing and Flossing
As your child's teeth erupt, be sure to examine them every two weeks, looking for lines and discoloration that may be caused by decay. Remember that sugary foods and liquids can attack a new tooth, so take care that your child brushes his or her teeth after feeding or eating. We recommend brushing two times a day for optimal oral hygiene.
Brushing can be fun, and your child should brush as soon as the first tooth arrives. When a baby's tooth erupts, parents should brush the tooth with a soft-bristled toothbrush and a pea-sized amount of toothpaste. For children younger than two, do not use fluoride toothpaste unless advised to do so by your dentist or other healthcare professional. We suggest reviewing proper tooth brushing procedures with your child.
Flossing is also a part of good oral hygiene habits, and our doctors will discuss with you the right time to start flossing your child's teeth. If you notice signs of decay, contact our office immediately.
Visiting Pediatric Dentistry of Sunset Hills
Children should visit our St. Louis, Arnold, or Wentzville pediatric dental office by their first birthday. It is important that your child's newly erupted teeth (erupting at six to 12 months of age) receive proper dental care and benefit from proper oral hygiene habits right from the beginning.
Our comprehensive pediatric dental treatments include but are not limited to checkups, dental cleanings with scaling by hygienist, fluoride treatments, sealants, tooth restorations, nitrous oxide, general anesthesia, emergency procedures, mouthguards, oral hygiene instructions, and education.
All of our team members specialize in pediatric care and treat our patients like family.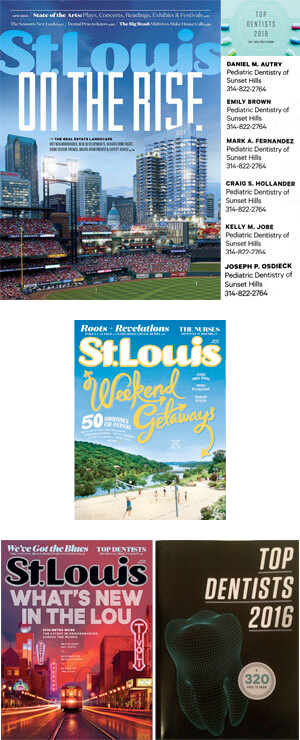 Giving back to the Community